IHTS Industries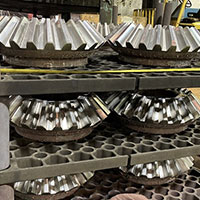 Captive Heat Treaters and Forgers
Today, many part makers with captive heat treating facilities and forgers are looking to eliminate wastes in their heat treating processes as well as the value added steps both upstream and downstream from heat treating. Many part makers are considering eliminating batch heat treating processes, the energy intensive and high maintenance batch or continuous furnaces and integrating their heat treating process into a single-piece flow directly in their manufacturing cells. Traditionally, heat treating and quenching are performed in a separate area which means the parts are gathered into batches and moved from the part making process to a separate heat treatment facility. The transition from single-part flow in part making to batch processing in heat treatment results in longer turnaround times as well as more variability in part properties within the batch, and more energy consumed per part.

IHTS has modern solutions like DAT Heating, HPIQ and Direct from the Forge Instant-Impact Quenching (DFIQ™) to help forge shops seamlessly integrate their heat treating into a direct from the hot forge to quench and temper right in their hot forging facilities for better parts in fewer steps. These steps include:
DAT Heating to optimize both forging surface and core properties while reducing forging die wear
Instant-impact water quenching to minimize distortion
Reduced energy expended per part by eliminating the post-forging Normalization process and a third re-heating before a separate quench and temper
Enabling more consistent part properties that deliver more added value to the product end users for every BTU expended in heat treatments
So, if you want to eliminate post-heat treating distortion correction costs, use less expensive and more readily available alloys and integrate the heat treating processes into your manufacture of lighter and more durable parts, we can show you how.

At IHTS, we're all about optimizing parts for leaner + greener manufacturing.