IHTS Processing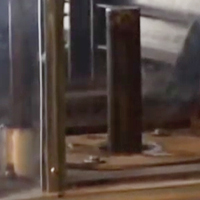 High Pressure Instant Impact Quench (HPIQ®)
Contrary to popular belief, a faster quench rate DOES NOT increase the probability of cracking or distorting the part. Instant Impact Quench is "uniform and intensive" water quenching applied after Austenitize heating. Very high intensity quenchant flow is needed at the part surface shell to eliminate non-uniform film boiling.

The first step is very rapid and uniform cooling from the austenitizing temperature, usually in highly agitated water, until optimal compressive stresses are attained in the surface layer of the part. Once optimal compressive surface stresses are attained, the part is removed from the quench, and the final cooling step is done in air or inert gas. In contrast to conventional oil, polymer/water or gas quenching, IIQ methods provide higher as-quenched hardness, to a deeper level in the part, while maintaining high residual compressive surface stresses, and, at the same time yielding low distortion.

There are two types of IIQ. IQ-2™ is done in a tank with the hot parts presented in batches. IQ-3™ is single part quenching usually at a more intensive "high velocity" flow of 5 to 20 meters per second.

A third type of consistently uniform quenching can be done using high pressure gas (usually nitrogen) or using plain water -- what we call our patent pending "High Pressure Instant-Impact Quench" or HPIQ®. Just like molten salt bath Marquenching or Austemper quenching processes, the high pressure gas or the water quenchants "instantly-impact" the entire hot part shell, cooling a thin layer of the shell to the "cold" Martensite start temperature and instantly forming "current" compression on the surface shell. The current compression "sets" the shell and locks in the part geometry over the still hot and plastic layers below the shell. Unlike traditional IQ-2 or IQ-3, HPIQ works on thin cross-section parts and parts with complex geometries. When combined with IHTS's patent pending DAT® Heating methods, the part is predictably transformed to yield the needed mechanical properties and the desired final net shape – enabling what we call our suite of Quench2FIT™ Technologies.