Podcasts
To learn more about how IHTS technologies have improved heat treating and quenching, take a deep dive into our white papers.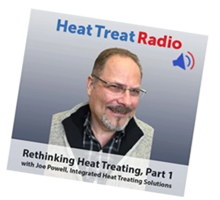 "I am a commercial heat treater who believes that part design should be integrated for heat treating by the part-maker. It's a nuance, but what it really boils down to is that sometimes commercial heat treaters do it best, but sometimes the part-maker can do it better."-Joe Powell
Heat Treat Radio host, Doug Glenn, discusses how one company saved over $700.00 in hard grinding costs PER GEAR on an 18-inch bevel gear. Joe Powell of Integrated Heat Treating Solutions tells how they did it.
Because we use no oil, we don't have to wash the parts or worry about disposing of quench oils. And, the process can be done in the machining cell, so it's an in-line process versus a batch carburizing process.
In this fourth and final episode, Heat Treat Radio host Doug Glenn talks with Joe Powell about Direct from Forge Intensive Quenching - forge shops won't want to miss this!