IHTS Processes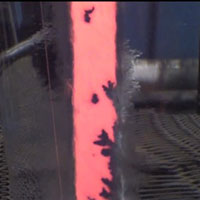 Uniform Quench Renewal Rates (UQRR®)
After an initial High Pressure Instant-Impact Quench, the heat treater must apply a Uniform Quench Renewal Rate at the hot part surface to insure that the heat treatment process produces consistently uniform surface hardness and the needed mechanical properties.

Whether using a gas quenchant, molten salt quenchant or intensive water quenchant, a UQRR creates a uniform rate of cooling in the "contiguous grains" of Austenite as the hot grains cool to the Martensite start temperature and harden. The rate of cooling must be fast enough and uniform enough at the hot part shell to "miss the nose of the curve" for the Martensite start temperature for a particular alloy's Hardenability. At the same time, the quenchant must be "renewed" to not overheat the quenchant at the part surface and .

The key to controlling distortion and avoiding part cracking is to apply the quenchant with an Instant-Impact followed by a Uniform Quench Renewal Rate (UQRR). The problem with oil, polymer water and traditional water or brine quenching is that at the initiation of quenching, there is film boiling, a blanket of large, interconnected bubbles, that insulates the hot part surface and reduces the liquid quenchant's cooling rate to that of a gas. As the quench cooling continues, the film boiling gas vapor blanket will begin to chaotically collapse, and the film boiling gives way to another phase of boiling called nucleate boiling – tiny bubbles forming then evaporating to give very rapid cooling rates. This chaotic combination of slow and fast cooling rates at the hot part surface results in non-uniform thermal shrinkage and non-uniform rates of Martensite phase change expansion – the combination for distortion.

Simultaneous "instant-impact" with the entire hot part shell cooling to the Martensite start temperature can "set" the part shell geometry, lock in the part core, as well as prevent part cracking and provide a uniformly higher as-quenched surface hardness (for the given material's inherent Hardenability).

Once the shell of the part is hardened uniformly, and the part geometry is set, the layers below the "cold" shell will cool by uniform conduction. The combination of the UQRR at the part surface, and the uniform cooling of the core by conduction through a part's given mass, predictably transforms the part into its final hardened shape and virtually eliminates the problem of heat treating distortion.

As long as the quench cooling rate is UNIFORM at the part shell, whether the quenchant used is a "slow gas" or "fast water", the part will not crack.